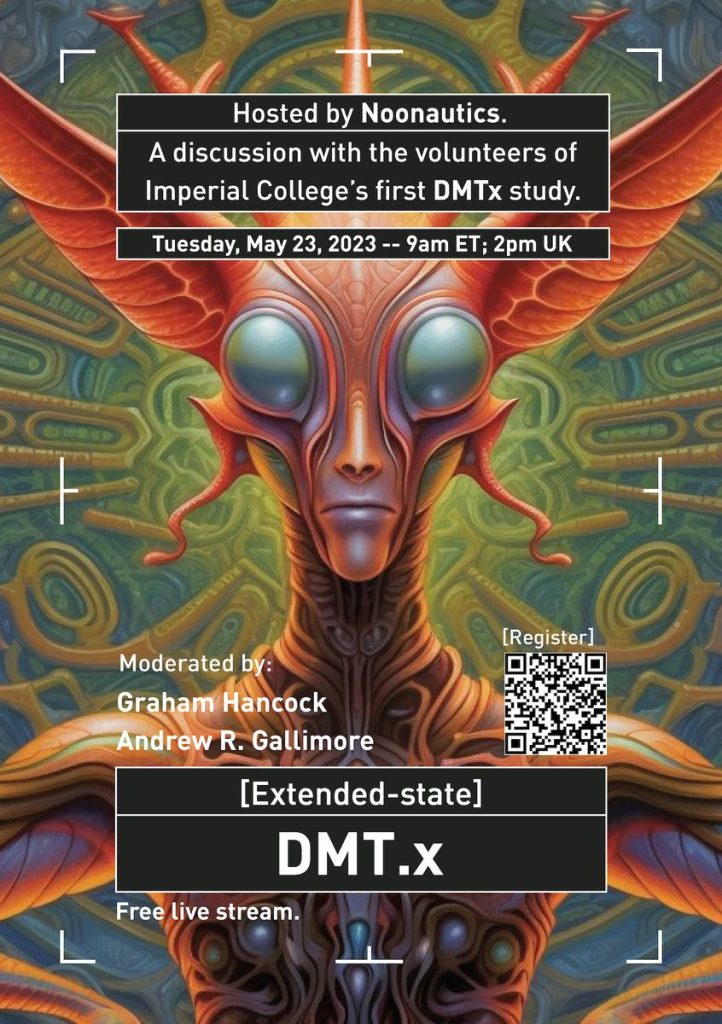 An unprecedented free to attend panel discussion is slated for May 23, 2023 at 2:00 PM UK (9:00 AM EST US), and it promises to be a revolutionary moment in the history of psychedelic exploration. Like NASA ventures into space, Noonautics is embarking on a mission into the depths of the human psyche, navigating the alien landscape of the DMT experience.
Esteemed writer and researcher, Graham Hancock, will preside over the panel in collaboration with the renowned DMT expert, Dr. Andrew Gallimore. Their scholarly perspectives and guiding wisdom will fuel a journey of discovery as the ground control guiding our astronauts to new frontiers. The panel will feature the brave explorers of Imperial College London's recent groundbreaking Extended DMT research: Carl Hayden Smith, Jack Allocca, Alexander Beiner, and Anton Bilton, who will illuminate the audience with their personal narratives of traversing the extended DMT state.
Drawing parallels with the Search for Extraterrestrial Intelligence (SETI), the focus of the discourse will be on the profound encounters with DMT entities. This psychedelic odyssey promises revelations and insights that parallel the awe and wonder that accompanies our encounters with extraterrestrial phenomena. Just as SETI deciphers signals from distant stars, our panelists will unravel and interpret their experiences in the DMT realms, potentially reshaping our understanding of reality.
This monumental event will be hosted on YouTube. The live stream link will be emailed the day before the event after registering. A Q&A session will follow, featuring esteemed experts in the field, a constellation of great minds. In the spirit of democratic exploration, questions from the audience will be selected from the live chat based on upvotes, offering an opportunity for collective inquiry and shared understanding.
We invite you to register and take part in this intrepid excursion to the frontier of consciousness exploration. Like witnessing the first moon landing, this event stands to be one of the most thrilling and transformative experiments to emerge from the psychedelic field in decades. Join us on this historic journey into the infinite depths of the human mind.