"Extended DMT exploration could become the most important technology in the history of humankind. It's unfathomably important to pursue if it actually allows us to communicate with alien intelligence."
"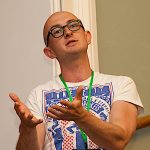 Many of the most perplexing questions we have about the nature of reality, consciousness, and what may exist beyond what we currently know are drastically accentuated whenever N,N-Dimethyltryptamine (DMT) is consumed. DMT consistently elicits what is often described as a "more real than real" otherworldly experience, leaving the journeyer with a profound sense of awe and wonder. Many people report significant encounters with hyper-realistic entities and beings that seem alive, aware, intelligent, and infinitely complex.
In the largest survey study to date on the subjective effects of entity encounters occasioned by DMT, 80% of respondents reported the experience shifted their fundamental understanding of reality, more than half of those who identified as atheists no longer did so, and the experiences were rated as one the most meaningful experiences in life with stable positive changes felt afterwards.
In the 1990s, Dr. Rick Strassman woke up the world by reigniting the psychedelic revolution through his research on DMT, which he aptly named the "Spirit Molecule" because of its radical capacity to alter our perceptions of reality, our own identity, and the molecule's apparent application in helping humans transition through death into a realm beyond.
DMTx revisits Dr. Strassman's initial expeditions into DMT in a way that stabilizes and extends the experience through the use of advanced medical technology. The DMTx program is inspired by a new pharmacokinetic model developed by Dr. Andrew Gallimore in collaboration with Dr. Strassman, and based on Dr. Strassman's original study data.
Dr. Gallimore proposed that pure DMT experiences could be safely extended and stabilized, possibly indefinitely, because of the unique characteristics of the medicine. 
With this new application, our DMTx team believes we can design safe experiences to make stable contact with these other realities and the entities that appear to exist independently from us. The purpose of these expeditions is to determine if these encounters are useful in some way, specifically in advanced technological innovation, ecological problem-solving, and in helping shift global consciousness to address our plethora of planetary challenges.
The first expedition of DMTx will be to test the protocol's efficacy to create safe and consistent Extended-State DMT breakthroughs, followed by a subsequent expedition to attempt to make and maintain contact with interdimensional beings.
DMTx needs your help to get their initial expeditions off the ground. Our initial donors will be contributing to a mission we believe can change the world.
These expeditions will be designed to create an experience where experts trained in advanced psychedelic journeying techniques will be placed in a stable, breakthrough DMT state in a way that they will be able to simultaneously converse with the team (on Earth) and with these seemingly otherworldly beings. These interactions will be filmed, transcribed, and monitored by a lab team which will attempt to investigate the nature of these experiences as the dialogue is mediate dialogue between the lab team and encountered entities.
The DMTx team will develop a protocol from our initial tests with the goal of objectively validating the true nature of these experiences. Regardless of the findings, DMTx seeks to continually explore how these encounters and journeys can be harnessed for life affirming technology development and complex creative problem solving.
In a Universe with fundamental questions left unanswered, continually emerging global crises, and a psychedelic renaissance underway, it is clear that the mysterious experiences induced by DMT must be explored with the cutting edge technologies available to us. It appears that humanity is on the verge of paradigm shifting discoveries once we integrate psychedelics and technology, creating a consistent method of interdimensional inquiry for our planet's brightest minds. For the sake of bettering our planet, DMTx invites you to help us build this pathway to other worlds.
While we have already solved many of the logistical hurdles for an Extended-State DMT experience, many questions remain, including technical legal questions involved in a practice that combines an ancient spiritual sacrament with a novel application of advanced medical technology to administer it.
We already have a location (to be announced later) that will legally allow these expeditions. Right now, our team consists of about 20 professionals and continues to grow.
The funds raised through Noonautics will be used to support the DMTx program by providing the necessary legal resources to fund additional preliminary research, legal review, and educational opportunities.
By donating, you will help the next wave of human exploration begin. Your donations will help launch a steady stream of expeditions into these worlds. We hope that you share the same curiosity to explore the nature of reality through Extended-State DMT.